about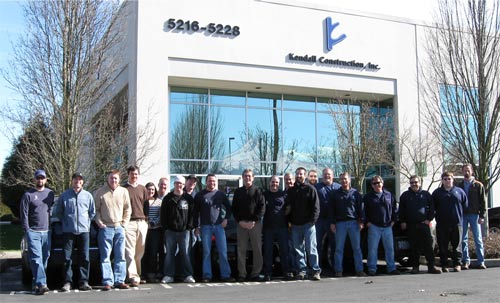 Specialty General Contractors
Since 1947, Kendall Construction has served its customer base in the commercial construction industry. We feel the key to our successful tenure has been steady leadership with a focus on quality of performance that the founder Frank Syring established and maintained with clients in the beginning. Our current president, Jim Craun, has organized an image for the company that is based around giving our client future-based goals along with effective pricing and communication.  Thus our philosophy: "Performing the job as you would want it done". As we continue to grow and keep pace with the ever-changing industry, our goal has remained to maintain the quality of performance while keeping our company in the forefront of our field.
Your business deserves nothing less than the best construction experience, which will be crafted by our team that has staked its reputation on providing top-notch environments for thriving businesses, commercial retail centers, and more.
Reach out to Kendall Construction, Inc. and create a space that works for you. Our Portland-based business serves clients in the Pacific Northwest.
• Start a new construction project – Design and build
• Interior & exterior renovation of an existing space
• Rehab and upgrade your building's capabilities
• Commercial and industrial construction
• Project management and consulting
Cost effective construction and masterful building techniques are within your reach.
Experience matters. Turn to the team that's been helping the Northwest's strongest businesses for more than 60 years. We are ready to work for you and create a space that represents and enhances your business.
Quality & Efficiency of Work
Two of our highest-regarded attributes are Job Efficiency and Work Quality. It is imperative to everyone at Kendall that our jobs run economically efficient, as well as with the utmost attention to quality. Our team-first approach allows every participant on each job, from client to worker, to feel like they have their "hands in the mix". This makes the communication between the owner, contractor and everyone involved clear and concise.
We pride ourselves on managing projects with clean and clear communication. From the field to the office, we have a savvy employee base that will keep job progress updated as it happens.